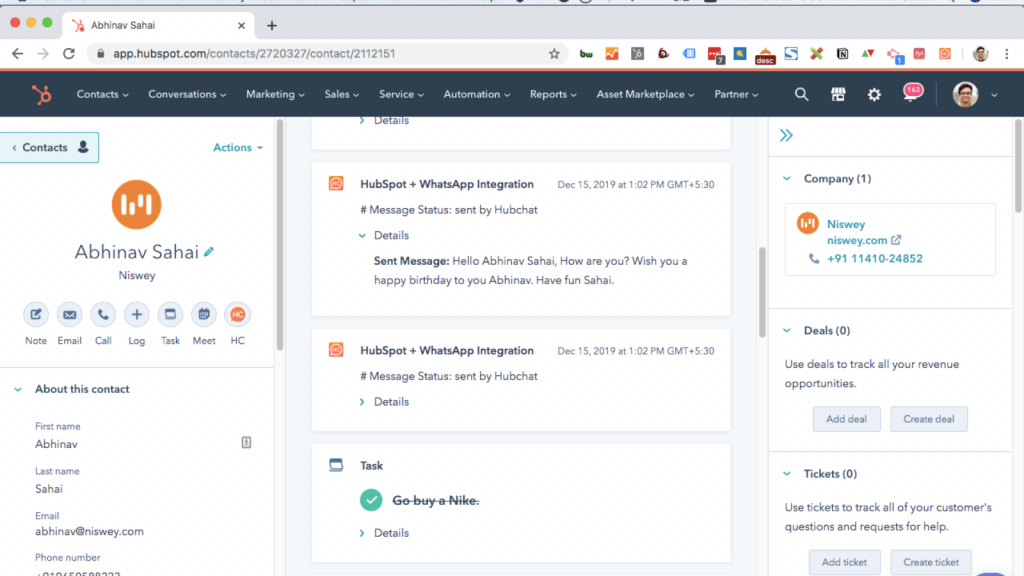 With two billion active users worldwide, WhatsApp is ranked the most used mobile messenger app. It is becoming an indispensable tool for businesses to communicate and build long-term relations with customers. On the other hand, HubSpot provides a growth platform with award-winning software, services, and support to transform the way organizations attract, engage, and delight customers. With 56,500+ total customers in more than 100 countries, HubSpot is one of the major customer relationship management (CRM) systems allowing you to channel your business conversations and client management into one user-friendly platform.
Why you should use HubSpot and WhatsApp for your business
Over the past years, the way of doing business has changed drastically due to the development of technology. As a result of that, consumers have evolved as well. Technology has changed how people interact, not just with friends and family, but with companies. We are now able to engage with brands on a 1:1 basis and consume content in more ways than ever before.
Higher consumers' expectations are leading to the following problems:
How to keep track of all your business conversations?
Many companies struggle with managing interactions they have with customers. With so many channels, communicating with clients can become time-consuming and inefficient.


How to collect and consolidate your customer data?
Your team may be talking to many customers at the same time, causing your customer data to be scattered across different systems. As a result, you have no overview of where customers are in the sales cycle.

So, what if we tell you HubSpot can solve all these problems – Wouldn't that be amazing?

These are the solutions you should consider:
Implement a top-class CRM
HubSpot's CRM platform provides you with the tools needed to build and grow remarkable customer experiences. It's all powered by the same database, so everyone in your organization is working off the same system of record. Your CRM is your one source of truth with all your contact data.


Integrate HubSpot with WhatsApp
The HubSpot+WhatsApp Integration developed by our trusted partner Niswey helps you continue to service customers on WhatsApp, while ensuring the conversations are mapped in the HubSpot CRM. The following features are included:

one : one messaging from within HubSpot
See the conversation history on the contact's timeline on HubSpot
No need to keep your phone next to you
Send text/ photos/ videos/ URLs
Receive and record all incoming messages
Create and store message templates


Get started today!
If you are interested in implementing a CRM system for your business, Intria can assist you with setting up your HubSpot and HubSpot+WhatsApp integration. Contact us today and see how you can kick-start your digital transformation.

Click here to book a demo session or email us at clientservices@intriagroup.com